Cactus – cacti /ˈkaktʌɪ/ or cactuses
Jawdat Khoudary et son épouse ont rassemblé à Gaza une époustouflante collection de milliers de sortes de cactus provenant du monde entier. La tige, principal organe sert à stocker de l'eau et peut représenter jusqu'à 90 % de la masse totale d'un cactus. Sa forme peut varier considérablement. Durant les périodes de sécheresse, elle se recroqueville et, lorsque l'eau revient, elle gonfle à nouveau.
---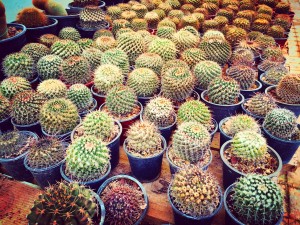 Définition du cactus dans le dictionnaire Oxford en anglais :
Cactus
Pronunciation: /ˈkaktəs/
NOUN (plural cacti /ˈkaktʌɪ/ or cactuses)
Phrases:
"In the cactus" , in difficulty or trouble (« être dans le cactus » être en difficulté).
– She has very kindly given me a small wad of bills and I am no longer in the cactus.
– Fine hold him for the police but throw him in the cactus you just got your boss a lawsuit.
Origin:
the word « cactus » derives, through Latin, from the ancient Greek κάκτος, kaktos. A succulent plant with a thick fleshy stem which typically bears spines, lacks leaves, and has brilliantly coloured flowers. Cacti are native to arid regions and are cultivated elsewhere, especially as pot plants.
Définition du Robert en français: 
Cactus
cactus cac·tus/kɑktʏs/nom masculin ; 1788 Étymologie latine empruntée du grec kaktos (pluriel invariable) plante grasse (cactées) de genre oponce, des régions chaudes et arides, naturalisée en Europe méridionale, à tiges riches en suc et épineuses.