Cactus – cacti /ˈkaktʌɪ/ or cactuses
Jawdat Khoudary en zijn vrouw hebben een adembenemende collectie van duizenden soorten cactussen in Gaza, verzameld van over de hele wereld. De stam, het belangrijkste orgaan dient om water op te slaan en kan tot 90% van de totale massa van een cactus beslaan. De vorm van de stam kan aanzienlijk variëren. Tijdens periodes van droogte krimpt hij en als er terug water beschikbaar is zwelt hij weer.

---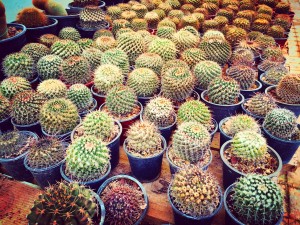 OXFORD Definitie van cactus in het Engels:
Cactus
Pronunciation: /ˈkaktəs/
NOUN (plural cacti /ˈkaktʌɪ/ or cactuses)
Zinnen:
"In de cactus" , in moeilijkheden zijn:
– She has very kindly given me a small wad of bills and I am no longer in the cactus.
– Fine hold him for the police but throw him in the cactus you just got your boss a lawsuit.
Origin:
the word "cactus" derives, through Latin, from the ancient Greek κάκτος, kaktos. A succulent plant with a thick fleshy stem which typically bears spines, lacks leaves, and has brilliantly coloured flowers. Cacti are native to arid regions and are cultivated elsewhere, especially as pot plants.

VAN DALE Definitie van cactus: 
Cactus
cactus cac·tus/kɑktʏs/zelfstandig naamwoord; de (m) (1775) Latijn ontleend aan Grieks kaktos 1. (meervoud: cactussen) plant uit de cactusfamilie die zich kenmerkt door een dikke, vlezige stengel, meestal zonder bladeren en voorzien van karakteristieke bossen stekels.