GLAZZA is providing: ACTIVITIES, WORKSHOPS, EVENTS, EXHIBITIONS and much more!
---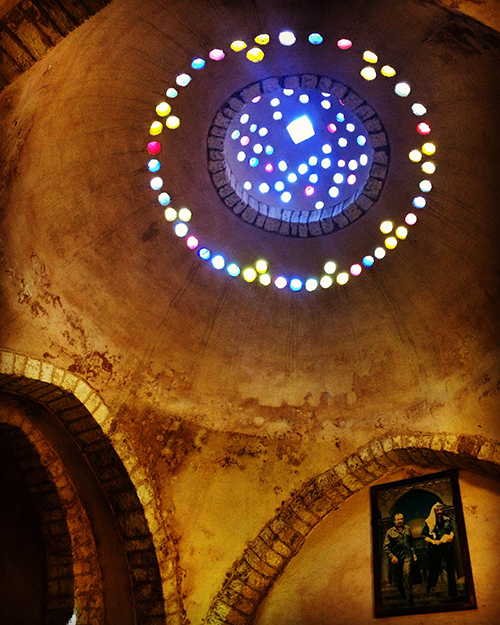 ACTIVITIES The image that most people in Europe have about Gaza is of a scary, dangerous and depressing place. Without wanting to negate the immense difficulties of life in Gaza, such images are not doing justice to this vibrant and resourceful place.
Through our projects, our ambition is to communicate a different side of life in Gaza, namely to raise awareness about how our friends in Gaza, against all odds, make the best of their lives. Respect for the resilience of Palestinians in Gaza can lead – as it leads us – to wonderful forms of collaboration and partnerships.
During the International Solidarity Campaign in October 2016 organised by the city of Brussels (Belgium), GLAZZA is participating in a two-week communal art project between the city of Gaza and Brussels in collaboration with the Maison de la creation .

---
WORKSHOPS in Gaza
Education
The Belgian artist Michèle Vanvlasselaer will train a team of students and artists to work together on stained glass windows for the private sector in Gaza. GLAZZA is also researching the possibility to export stained glass windows globally. Check out this VIDEO for the latest information. 
UNRWA
In July 2016 Michèle Vanvlasselaer worked together with UNRWA (United Nations Relief and Works Agency for Palestine) on a joined art project with the youth of Brussels. The result will be exhibited in November 2016 in Brussels and in 2017 in Gaza. Check out our Facebook page by the end of October for a detailed programme.
---
ARCHITECTURE AND GLAZZA
GLAZZA is pleased to partner with the architecture departments of the "University of Palestine in Gaza", the "Iwan Centre in Gaza" and with the "International Academy of Art in Ramallah" for future projects.
In February and July 2016, Michèle Vanvlasselaer gave a few lectures at these institutions on 'glass, natural light and architecture'.
In July 2016 the architects Abdelkarim Gharbawi and Rashid Al Ruzzi organised a conference in Gaza about "the art of stained glass windows and architecture" and invited Michèle Vanvlasselaer to speak about her work and future projects in Gaza.
---
EVENT
De Gaza à Bruxelles, Contre Vents et Marées.
On Wednesday 5 October 2016, GLAZZA presents together with Maison de la creation, the city of Brussels, and several cultural partners an evening around art from Gaza. That evening the movie of Marc Temmerman "Michèle Vanvlasselaer in Gaza" will be projected and different cultural partners and artists will speak about art and life in Gaza. 


---
---
The photo of the Turkish bath house  is taken in Gaza city, Hamam Al-Sammara was build during the Mamluk Architecture periode and restored around 1320.